Certified and Background Screened Document Specialist. Power of Attorney, Trusts, Quit Claim Deeds, Real Estate, International documents and more. Call or Text 24 hours a day Jean Zei @ 773-398-8417. ORDER a trained Notary in Las Vegas!
Choose a time and location that's right for you and give us a call. Bring your documents and identification and we can take care of the rest. Time is money, we get it! Our promise to you is to arrive prepared and on time in order to complete your signing request. Call Jean Zei 773-398-8417
DOCUMENTS MUST BE SIGNED IN THE PRESENCE OF THE NOTARY PUBLIC. Do you have your documents and valid (not expired) ID ready?
Call Jean Zei 773-398-8417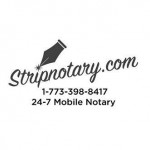 If you are trying to obtain a power of attorney for a loved one, please be advised: there are many services from church to government that can help you gather the right forms. You may find the appropriate form at the State of Nevada Guardianship website Some banks require you to use their form in addition to a power of attorney that may be in place.
Check your documents, you may be required to have witnesses in addition to the notary. Our Las Vegas Public Notary (apostille) meets you in a location you choose. Strip Notary will respect your time by being prompt and prepared.
Be advised: The local UPS, FedEx, Currency Exchange and Banks advertise notary services, but will most likely deny witnessing your documents if they have not prepared them or if they pertain to property . Choose wisely, use our elite group of trained Notary Signing Agents in Las Vegas Nevada who are local and reliable.

Call Jean Zei 773-398-8417 to schedule.
Jean Zei 773-398-8417 or TXT or Email jean@stripnotary.com
Have your documents and ID ready? Call and a mobile notary public can meet you now. Jean Zei 773-398-8417 Refinance, Loan Modification, Contracts, Affidavits, Certifications.